Earnings: The Indispensable Element Of Great Stocks

Research shows that earnings growth is the single most important indicator of a stock's potential to make a big price move. In this lesson, you'll learn how to find the companies with the best earnings growth and avoid some pitfalls that trick many investors.
Why Earnings Growth Is So Crucial
How many times have you kicked yourself for passing up a great stock like Microsoft or Home Depot? There were tell-tale signs that these winners were about to make major moves before they became household names.
Yahoo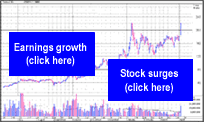 Yahoo surged 458% in seven months starting September 1998. Right before this phenomenal move, Yahoo reported three quarters of earnings growth of 400%, 500% and 800% - clear indications that this stock was building a strong track record and poised for further growth.
Mindspring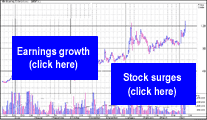 Mindspring surged 237% in five months starting November 1998. In the three quarters prior to this, it reported earnings growth of 140%, 233% and 800%, respectively.
Brooktrout Technology Inc.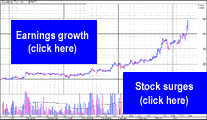 Brooktrout Technology Inc., a maker of software and hardware for networks and telecommunications systems, catapulted 230% over 23 weeks starting in December 1995. The three quarters before this great move saw earnings growth of 31%, 47% and 100%.
See a pattern here? A study of the greatest stock market winners dating back to 1953 looked at all the biggest stock winners - stocks that doubled, tripled, and even went up even more. This was a comprehensive study that analyzed every fundamental and technical variable. What emerged were seven common characteristics among the big winners with earnings growth being the most significant factor. (The other winning factors from the study are discussed in subsequent course lessons.)
Three out of four companies averaged earnings increases of 70% or more in the quarter right before they started to make a huge price move.
Three-quarters of these top stocks showed at least some positive annual growth rate over the five years before their major price move.
This research continues today, and consistently confirms the original findings about the significance of strong earnings growth. The study also reinforces that under countless market conditions over the years, the selection criteria still work today when searching for winning stocks. When it comes to investing, start with a look at a company's quarterly and annual earnings record.