Earnings: The Indispensable Element Of Great Stocks

Evaluating Earnings
Unless you have time to sift through endless earnings reports, odds are you'll miss out on those companies announcing superior earnings. And how do you know the difference between a one-hit wonder and a potential stock market winner when you are looking at raw earnings numbers on thousands of companies?
Investor's Business Daily compares the earnings performance of all domestically traded stocks each day using its proprietary Earnings Per Share Rating. The EPS Rating measures each stock on a scale of 1 to 99 (99 being best) for a quick assessment. An 80 EPS Rating means that stock is outperforming 80% of all other stocks based on earnings growth. Seen another way, a stock with an EPS Rating of 80 is in the top 20% of all stocks in terms of recent quarterly and annual earnings growth. Our research shows that the stocks that make powerful gains usually have an EPS Rating of 80 to 85 or higher.
The EPS Rating is found in the IBD SmartSelect® Corporate Ratings, a compilation of five financial-performance gauges on every stock that appears in the daily stock tables. The EPS Rating is found in Investor's Business Daily, Daily Graphs® and investors.com's IBD Charts, IBD Stock Checkup and My Stock Lists.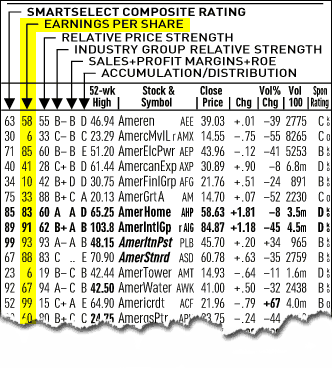 To further evaluate and compare earnings performance, you can log onto Daily Graphs Online®. You'll find a menu of performance reports, including a list of the stocks with Top 100 EPS Ratings for both the New York Stock Exchange and the Nasdaq Stock Market.
This is an example of a Daily Graphs Online® chart, showing earnings data in the upper left boxes and along the bottom.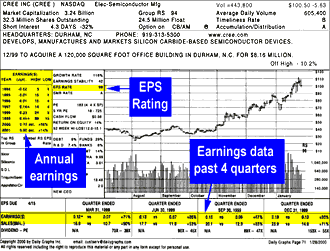 Stocks don't live on strong earnings alone. The performance indicators in IBD SmartSelect® Corporate Ratings help you round out the stock selection process. This set of tools also compares other meaningful factors, such as sales growth, return on equity, profit margins, industry vitality and a stock's price performance.
investors.com